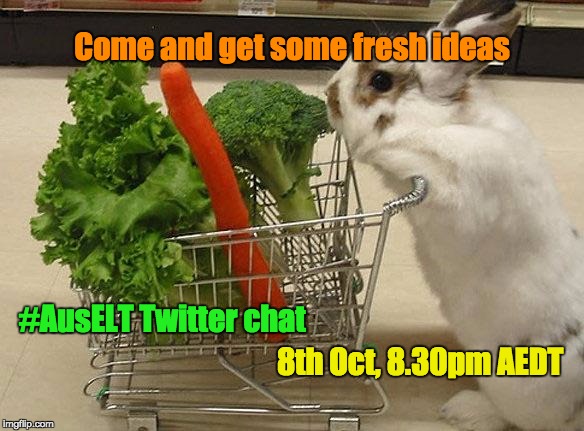 Now, usually we are due for an #AusELT chat on the first Thursday of the month – but for October we have made a decision to postpone by one week, for the following reasons:
the English Australia Conference 2015 just wrapped up in Brisbane a few days ago;
many of our regulars are still travelling/recovering/

hungover; 

and
1st October has sneakily managed to also be the 1st Thursday of the month, thus taking us all by surprise.
So, the next #AusELT Twitter chat will take place on Thurs 8th October at 8.30 Sydney time (check here to see the time where you are).
The topic will be "Conference wrap-up and other interesting ideas", and will basically be a 1-hour swap shop.
Come and share what you saw, what you loved, what you found interesting or controversial about the 2015 English Australia Conference.
Don't worry if you didn't go. You can still share new/interesting ideas that have come your way lately. Things that spring to mind from the #AusELT Facebook page recently include haptic pronunciation teaching; heutagogy; mentorship programmes; Periscope…I'm sure you can think of more.
Looking forward to e-seeing you all then!
NB: New members/New to Twitter? Please see the Twitter page on the blog for help and 'how-to'. Come along and try it out!
This post by @sophiakhan4